Flickr is pretty popular as a social photo management application. I end up visiting it at least weekly, although I've never put my own photos on it. One thing that bothered me about Flickr from the very beginning is that they use square thumbnails all over the place. That is, they ignore the natural aspect ratio of your photos, and cut a square segment out of it for use as the thumbnail.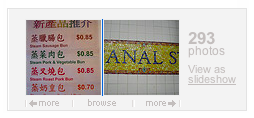 Occasionally, the effect is somewhat disturbing. I guess it's natural to see people's heads cut off in amateur snaps, but what about the photo all the way to the right? Is it a tile plaque in the washroom of a deviant sex club? Or something altogether more innocent? Click through to find out!
The auto-cropped square thumbnails bug me because I happen to think the aspect ratio is an essential part of the photographer's statement. I do actually take the time to crop and otherwise post-process (some of) my photos, which is one reason it can take so long for me to get them published. But still I think it's worthwhile. Here are some before/after examples…
I wonder whether any of the Flickr enthusiasts are the same who complain about the aspect ratio of TV movies or pan-and-scan DVDs. Don't get me wrong: as an amateur web designer myself, I fully understand the convenience of square thumbnails. You can stack them into very neat grids. You can design little user interface widgets around them without having to fret about a wide variety of image sizes. But in my opinion it's really worthless if your thumbnail does not accurately represent the image itself.
8 June 2006 update: Serendipity! A useful article on cropping for impact (with good examples) just appeared at the Digital Photography School.